We take our garden "blooms" where we can in winter. No, I'm not talking flowers. Pollinators, please stay tucked in your nests, we're not ready for you yet.
I was captivated by these ice covered branches on a recent walk in Ashbridges Bay Park.
This is a different sort of blooming, the cold, hard, icy kind.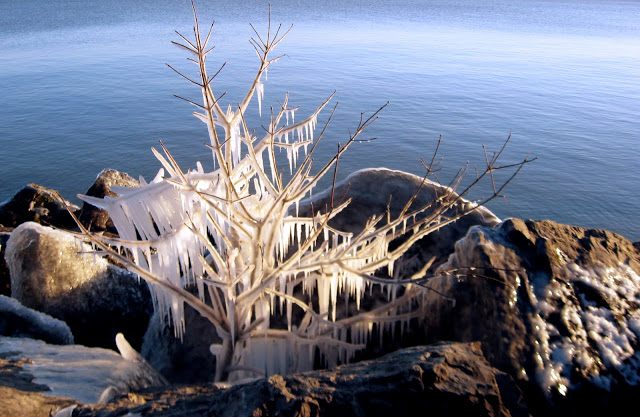 This one looked to me like a little spiky flower that had grown among the rocks. And, while they're not flowers, in some ways, these ice formations on trees, shrubs and rocks on the shore of Lake Ontario are just as spectacular, especially if you come upon them in the hour before the sun goes down.
These rocks covered in ice remind me of some kind of weird gel-covered dessert.
We still have a few more weeks before the snowdrops and crocuses appear, so seeing what nature dishes up all on her own is a short-lived winter joy.
Bare brown branches that I've passed by without noticing for months are rendered extraordinary and beautiful with a sheer coating of ice and frozen stalagtites. They don't last, but while they're there, what a treat.