I'm lucky to live so close to Ashbridges Bay Park on Lake Ontario. I can get there in a matter of minutes, and sister Helen and I have spent hours walking here, peering at trees & shrubs, trying to identify what's growing, and gathering round rocks from the beach.
The park has a mix of cultivated and wild areas, with plantings of native trees and grass, but also weeds, shrubs and wildflowers left to do their own thing. Along with formal walks, there are also small earth-trodden paths wending their way alongside the lake. The shoreline is partly edged with man-hauled massive boulders, but also small beachy coves, which are covered with lake-tossed rocks, rounded bricks and building materials, worn into eroded clusters. A treasure trove for rock gatherers, like us –these often find their way into our gardens.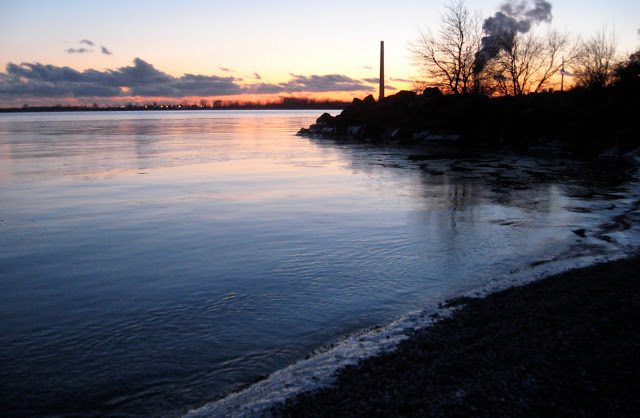 The point that juts into the water, where I take my walks, is entirely man made, using fill, and provides a peaceful sandy cove on the south side, and a rocky shoreline along most of the north, plus a stellar view of Toronto's harbour and skyline.
Since getting my puppy, I've had even more reason to spend time there–often in the waning hour before sunset–particularly magical as the cityscape lights turn on and reflect on the harbour, now covered in ice.
Lake Ontario is really the showcase here, and I fall in love with it more and more: how it reflects the sky and cityscape, makes a home for countless water birds: ducks, swans and others I can't identify.
Lake Ontario occasionally thinks it's a sea or an ocean. I never get tired of the soundtrack of the massive waves crashing on the beach on those days. I've read the Great Lakes described as freshwater, inland seas; and I'm very grateful to live only five minutes away from this one.
All pictures were taken over the course of about an hour as the sun dipped, sky darkened, and city lights turned on.