I've always hated winter. Why? Because I hate, hate, hate being cold. I was the kid with the 17 comforters on my bed: I relished the weighty coziness of it.
Living in Canada, I'm way out of my comfort zone: born in England, I came (was dragged) here as a fairly wee tot, and never quite adjusted to the crazy cold. Yes, I've lived through (barely endured, whined about) many, many, many Canadian winters. As the first leaf turns red in the fall I'm already girding my loins for what the Canadian climate dishes up next. Couldn't even enjoy fall because I was actively dreading what comes next.
Hearty outdoorsy Canadians are known to say things like: "It's not the bad weather it's the bad clothes".  Hm, don't think I have that saying right [Ed. from hearty outdoor sister: There is no bad weather, only bad clothing.], but the idea is that any temperature is bearable as long as you have the right type of clothing covering the right areas–the outerwear version of the 17 comforters.
Review by Izi the Dog: Whoa! Bogs!
This fall I got a tip from a guy at the dog park, when I spied his intriguingly practical-looking rubber boots. He said, "They're Bogs. They're warm, they're super comfortable and they're waterproof. Get them at Lee Valley Tools." I made a mental note and this Christmas put Bogs boots on my list.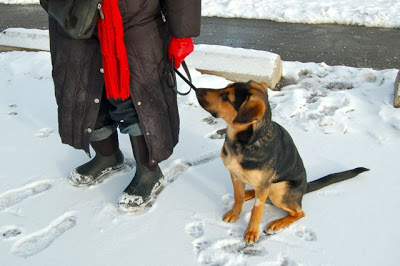 Izi says: Pretty cool, boss!
Hurray! What did I find under the tree this year? Not only a pair of Bogs boots but a sleeker, taller, lady-style pair of Bogs boots, thanks to the sleuth-like shopping of my sister, I mean Santa. [Ed. from Santa: Lee Valley was sold out at the time.]
I took them out for a test drive on New Year's Eve day. It was raining in Toronto, I had to take the puppy out for a run. The beach is where I head with the dog on a rainy day, wet sand being easier to cope with than the Woodstock reminiscent mud-bath of my usual dog park.
As it happened, it was just above freezing, and not only was the rain spitting down, but the waves of Lake Ontario were crashing in. I happen to love when we get waves at beach, so walked along the surf, yes, right in the surf along the water's edge for about an hour. And I can report that although my pant legs were completely soaked, my feet were warm and dry.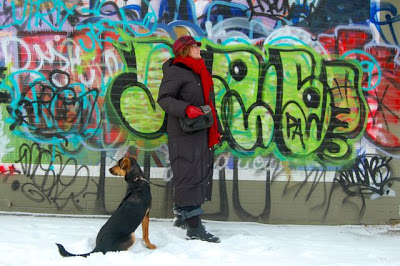 Izi says: They look good at the dog park, too. We're chillin'. (But our feet aren't.)
Warm feet in the winter, whether walking through snow or slush. This is something to celebrate.
My appraisal of Bogs is this: they are a combination of a wet suit, comfortable slippers and a down sleeping bag. For your feet. Whether you're walking your dog, or digging the garden in the spring and fall they are a must!
No, I have no relationship to Bogs, the company, except love!