If you've travelled along Queen Street East, you've passed the white-picket fence enclosed Ashbridge Estate. This is the family homestead of one of the east end's earliest settlers. The Ashbridges – from whom Ashbridge's Bay gets its name – were Loyalists from Pennsylvania, granted 600 acres that stretched from the waterfront of Lake Ontario to Danforth Avenue.
Although this mansard-roofed house was constructed in the 1800s, in two installments, the Ashbridge family lived on this site continuously between 1793 and 1997. No other place in the city can beat that record. Ownership of their home was bequeathed to the Ontario Heritage Trust in 1972, and is today the offices of the Ontario Archeological Society.
At one time, the management of Canada Blooms had occupied this space (which would have been a great pairing), but I understand that that marriage didn't work out.
But, more to the point, it is a public space that welcomes polite visitors. I had no idea this was the case, till I ventured by on foot, naturally with a camera in hand. It's a quiet respite from busy Queen Street, and the TTC yards across the way.
From a garden perspective, it's a great place to see trees – really old trees. The rainy weather on the day of my visit really brought out the textures.
[But, soft, what light from yonder laptop breaks? It is my clock telling me I have to launch this post in order to fulfill my very last daily post of November, before the clock strikes midnight… BRB.]
Back again. The tiger-striping on the old paper birch (Betula papyrifera) above is extremely decorative, along with curls of exfoliating bark.
And, above, closer to what I imagine might have been the original homestead site (there's a plaque), the deeply grooved bark of one of two very old black locust trees (Robinia pseudoacacia). Farmers would have planted these to use their super-strong wood for tool stocks.
On the far side, the entrance to the drive is flanked by large horse chestnut trees (Aesculus hippocastanum), evident by the fat terminal buds, even when leafless.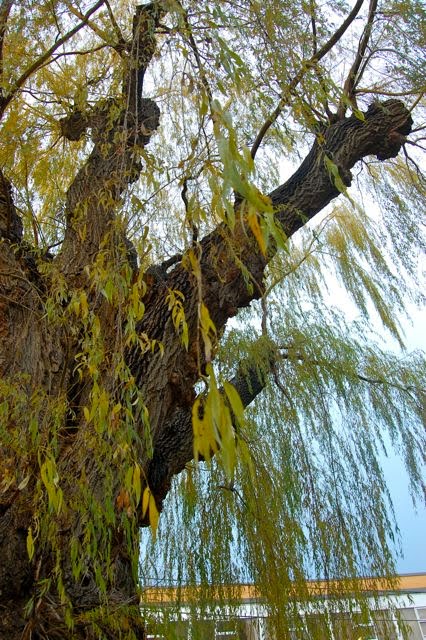 Towards the back of the property, beside a hollow in the land that must have been the watercourse of a now buried stream, is an ancient weeping willow, so whittled away by time that it is surrounded by its own circle of chain link fence – to protect it from onlookers, or vice versa.
Behind the house, I was glad to see that the flower garden is piled up with fallen leaves.
Now that I've broken the ice, you know I'll be back: respecting the privacy of the tenants, removing my litter, cleaning up after my pets, and leaving the flowers for others to enjoy, just like the sign says.