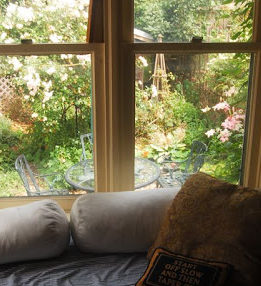 Aiming for a shot of the rose arbour for Garden Bloggers Bloom Day, way back the summer, I realized that one place to appreciate the (at that time) bower of bloom was from inside the house.
This got me thinking: is garden design all about experiencing the garden from within it? When designing: is in in and out out and never the twain…?
We've all seen what happens when people consider the house and its garden as two separate spaces: such as when a huge conifer is obscuring the view, smack dab in the middle of a picture window.
Yet, in cold climates like ours, where indoors begins to feel mighty claustrophobic by February, it would be liberating to be able to extend the view.
Windows and doorways offer the ideal framing device. I'd begun to think on this when Sarah and I visited the country garden of Country Gardener, Yvonne Cunnington, a very talented designer who clearly understands the ins, outs and all their implications.
It isn't just the fabulous property (although who wouldn't fantasize about that?). It's the conscious placement of garden objects in the near, middle and far ground that keeps the eye traveling through the picture – the garden picture – even when seen from indoors.
We can keep this in mind, no matter what size garden we possess.