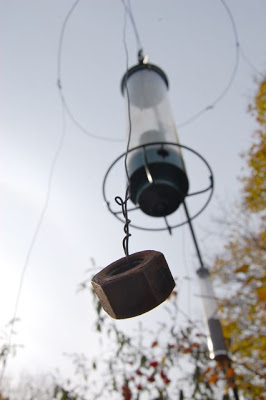 I'd never thought much about house sparrows, except to notice that they're among the most-frequent visitors to my bird feeder (whenever Sarah fills it for me).
Then, a few days ago, my neighbour M called me over to show me his homemade sparrow deterrent, based on the Magic Halo. He'd made the halo frame from a couple of coathangers and then hung four evenly spaced, narrow-gauge wires, each with a heavy nut or screw at the end for ballast. The original product uses a filament instead of wires, in which the birds can become entangled.
So far, he said, no sparrows. (M also avoids the cheap birdseed that contains the cracked corn that sparrows like.)
Though impressed with M's ingenuity, it made me wonder why such measures were necessary. So I got online.
This informative site about bluebirds Sialis.org, including a whole section on the Magic Halo, awakened me to the bully-boy that is the fluffy little house sparrow. I learned that this non-native bird attacks and kills cavity-dwelling native birds such as bluebirds and intimidates shy guys like chickadees. Who'da thunk it?
So, get ye hence, foul sparrow. Go pick on someone a whole lot bigger.