Perhaps it's our English or Welsh blood*, but I like the rain. Sometimes we might get too much of a good thing, but there it is: a good thing.
With my hefty, 2,424-page Compact Oxford English Dictionary (New Edition) came a button-shaped reading glass to magnify the mouse type. I love the way rain does this to leaves, making the details shine. Above, are the fall leaves of purple Japanese barberry, Berberis thunbergii 'Rose Glow' (which I now feel honour-bound to tell you is an invasive plant, a disappointing detail I just learned from Toronto blogger Native Plant Girl. Please read her PSA and be informed and forewarned.)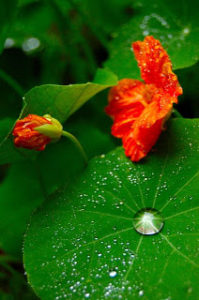 See what I mean about magnifying? The surprisingly tough nasturtiums (Tropaeolum majus) are still chugging along at the close of October, despite the preview of winter we've been given over past weeks. Their fleshy bits remain undeterred, and are still having fun pumping out flowers and catching the dew.
Rain also glosses up the furriness, so the colours of these big-root geranium (Geranium macrorrhizum) make more of a show. If only they'd "do their thing" over more of their leaves each autumn, it would compensate for the fact that, in my dry shade garden at least, these plants hardly ever flower. They are an almost invincible groundcover, though.
Rainy days can send you scurrying for shelter. When there isn't much to look at in the garden, it can cause you to see what little there is. Lilac leaves might not change colour, but you can occasionally spot them wearing crystal earrings if you're quick.
And then, there's the way a wet, cool, fall day can amplify the light apple scent of a rose like 'New Dawn.' It's a fragrance that can get lost in the heat and hurly burly of a summer garden. This one offered itself at nose level, right at the end of a long cane, as if to say: stop and smell me. The raindrops on roses are but icing on that particular cake.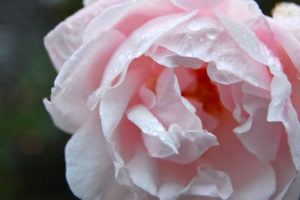 *As someone or, in our case, sometwo with Welsh heritage who spent a significant hunk of our childhood in Wales, one of my favourite bits of a Jasper Fforde novel is the fake ad slogan enticing you to holiday in Wales: "Not always raining."
In my second warning of this post, I'd like to caution you against clicking Jasper's link unless you have earned a significant number of Procrastination Points.
So enjoy the rain, and the mildness that makes it possible. In a few weeks it most certainly will be not always raining.