"Timelines, Strata and Ephemera" – See further info on this installation below.
Québec City was born in 1608, and in 2008 it had a big party to mark its 400th. The Ephemeral Gardens were among the events and happenings that unfolded all through the year-long celebration – and which included a free concert by Céline Dion, for 250,000 of her closest friends, on the Plains of Abraham.
The heart does go on, even in summer 2009, down in the Old Port (Vieux-Port) of Québec. Here, you can still catch the innovative Robert LePage/Ex Machina Image Mill (Moulin à Images) show, the story of Québec's history projected on those silos in the background, the Bunge company's 600-metre-long (almost 2000-ft.) grain elevators.
More à propos for this blog though, a few of the least-ephemeral Ephemeral Gardens remain: a handful of the original eleven contemporary gardens, about half of which were selected by juried competition and half invited. (To give you a taste of the conceptual innovation that informed these temporary spaces, this link is to the Boustrophedon Garden that exists now only in the ephemera of memory.)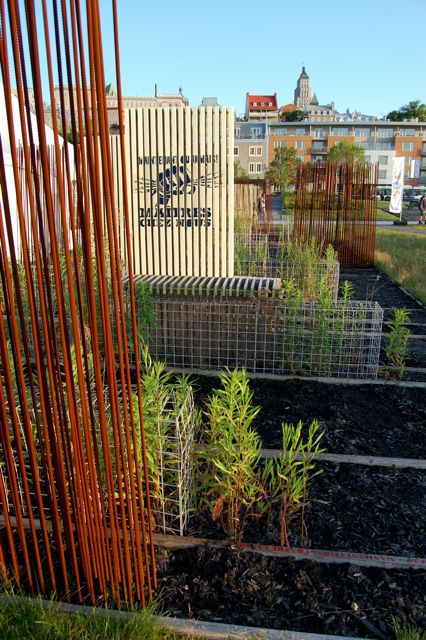 I didn't see any interpretive signs that would place these gardens in their often political context. Yet, I saw much to appreciate. The use of materials, for instance, is inspired. These rust-tinted rebars make bold fencing, with emphatic upright lines.

[UPDATE, May 2, 2014: Just got an email from the architect and designer of the project above, which is called Timelines, Strata and Ephemera: "My name is Sonya Lee, and I was the architect of this installation. The competition was a two-stage international competition, and we were lucky enough to have won, representing the USA. The really unfortunate part was that I only saw the project when it was first installed. We knew the rust would come shortly but never actually got to see it in the end, so it was a complete delight for us to see your photo."]
I read recently (and wish I could give credit to the garden blogger) that a good designer can make asphalt interesting. Immediately, the willow maze below came to mind. The willows appear to be growing through the cracks in the pavement; albeit artful, man-made (in a non-gender-specific sense) cracks.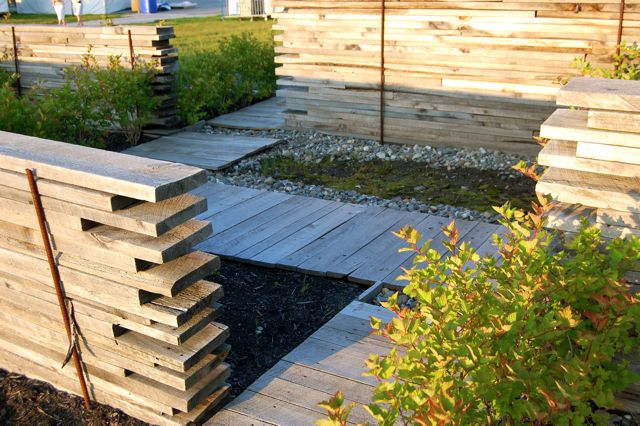 I also liked the simple barriers created by the stacked and pegged boards. Threaded through with boardwalk pathways, it might be used in a contemporary garden to create a transition between spaces. Or, for something more rustic, replace the rectilinear forms with pruned branches. No nails required.

The intent behind the installation at right might have been related to clear cutting… I could be misguided in that notion, but something about clear cutting rattles around my memorybox. In a purely pedestrian sense (pun unintended), doesn't this make a novel paving material! It even suggests how to apply it to a change in grade.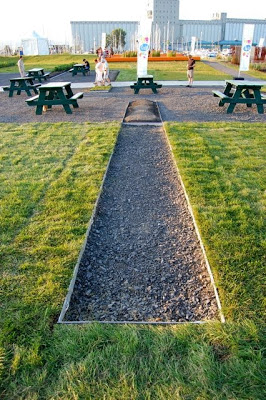 Behold at left a simple application of negative space. The bed inserted into the grassed area is filled with gray gravel identical to the material used on the larger picnic area. I would have liked to see the mirrored bed planted with ornamental grasses. Perhaps it once was… or with turf. Right now, it's just a garden waiting to happen.
But good ideas are growing in it, if you look closely.