Disclaimer: The images in this post are not pictures of my garden. They are gardens of simple inspiration from around the city.
A new season: Time to take stock of the garden. Starting back where it began, twenty-two autumns ago in November, when we took possession of two rectangles of sparse lawn, with a house sandwiched between.
The front lawn had one badly pruned forsythia, planted too close to the walk, one gangly bridalwreath spirea (Spirea vanhouttei) that looked like Charlie Brown's Christmas tree, one mock orange (Philadelphus) and a long privet (Ligustrum) hedge – all of which, except for the mock orange, are now gone. All were sitting in lank grass on sand under the dense shade of 60-year-old (now octogenarian) Norway maples (Acer platanoides).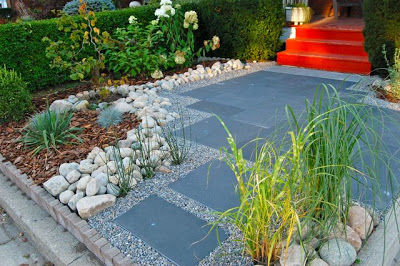 Again, this image and the next are not my garden. And not English cottage gardens. But simple and, likely, sustainable.
I dreamed of an English cottage garden and, in my ignorance, tried to create one. To my credit, it has sort of succeeded. Sort of. It does have that jumbled, seed-where-you-willy-nilly quality.
But, here's the thing. It's a lot of work.
Know that expression, you can't fight Mother Nature? Notice the word "fight"? Going against the inherent tendency of soil, light and moisture is a struggle, a battle against natural forces. For me, it has been a 22-year-long hard slog.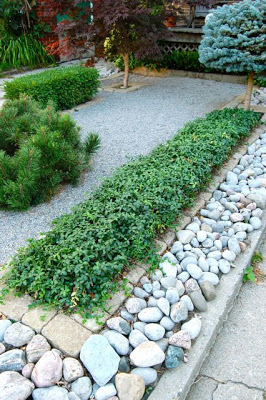 At this stage of my life, it's time if not to surrender, then at least to declare a truce. I'm going to stop fighting Mother Nature.
Especially after such a dry September as 2009, autumn is where all my mistakes become most glaring. The flops are at their floppiest. Shrubs, stressed by un-ideal growing conditions, have been weakened and open to pests and disease. They're unhappy. They're telling me what's working and what isn't.
Time to listen. Time, as they say, to accept the things I cannot change, to change the things I can, and have the wisdom to know the difference. Time to simplify. This will be my goal over the months to come. Stay tuned.