By September, I'm usually the Girl from Ipomoea, with a garden totally, er, beribboned and festooned (aka choked) with morning glories.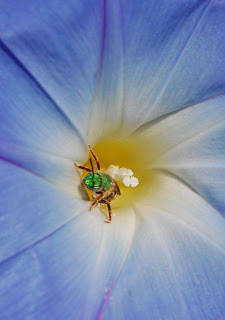 Mine are not the ones pictured here. They're the pretty but common Ipomoea tricolour, likely old-fashioned Grandpa Ott, the first seeds of which were probably sown about the time the foundations of our house were laid in the late 1920s. Grandpa and I have a complicated, love-hate relationship.
Perhaps he knows that in truth I'm always pining for this blue-eyed stunner, Ipomoea 'Heavenly Blue'. Whenever I see it in someone else's garden I get a little, well, weak in the knees. This is blue; heavenly, heavenly blue.
But, thinks I, why should I plant more morning glories. Really, I need more morning glories like I need heavenly blue holes in the head. So I don't.
Sigh. My rational mind is seriously flawed sometimes.