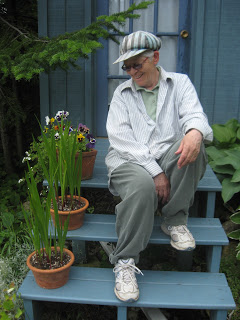 Another garden gem in the Bruce Peninsula, at the northern tip of Dyers Bay, is Virginia's Garden. It's nestled in a slightly sloping pocket between the road and the towering limestone cliffs behind – a unparalleled backdrop of rock cliffs and towering trees. Gravel paths guide you through the garden, Virginia Dolliver's labour of love for many years. She manages the garden on her own, including creating the gravel path, foot by foot, wheelbarrow by wheelbarrow.
That's tenacity.
Virginia is an avid collector, with a real love for plants and their individual characteristics, always finding beautiful combinations to set them off.
Stealing garden ideas is my Modus Operandi when I visit gardens, and one of the pairings I stole from my first visit to Virginia's garden was her combination of deep red 'Bishop of Llandgraff' dahlia and scarlet Crocosmia 'Lucifer', planted together in a large tub. Stunning combo.
As a collector, Virginia knows what she likes, and what she doesn't. We talked about the new types of coneflowers that are being introduced: The odd pom-pomm-y shapes, and varieties that look like they are being tortured into submission. She definitely does not like them.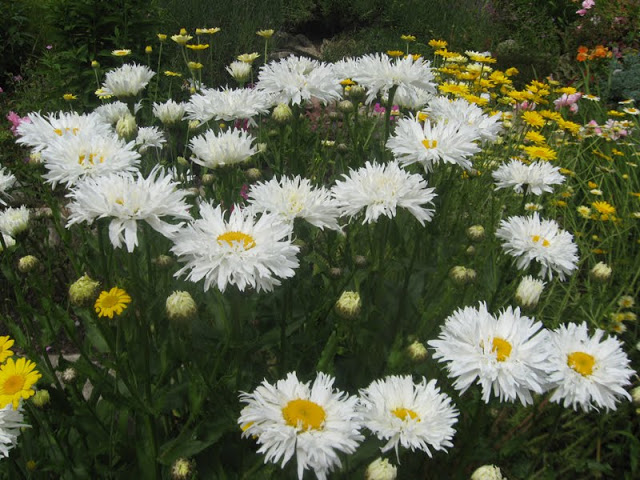 One garden hybrid she does admire however is the Shasta daisy variety, 'Crazy Daisy'. The pure white petals are frilled every which way, and it's showy, without being over the top. She described this one to her granddaughter as "a daisy in a party dress". I agree.
I was dazzled by the undulating colour sweep of three softly changing tones in a sea of Anthemis below: yellow, white and a variety called 'Hollandaise'. Buttery yellow 'Hollandaise' and the pure white varieties softened the intense chrome yellow of the original Anthemis. The mass planting makes the effect: "painting with a broad brush" really works. I'll always want these three combined in my garden now. Spectacular.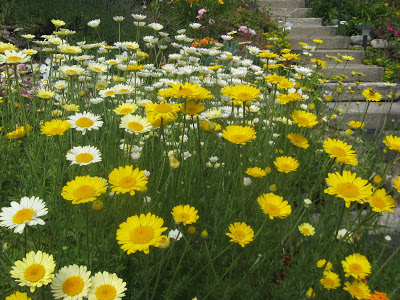 I've been very slow to warm up to grasses, er, let's make that "actively resistant", as I have so much invasive twitch grass in my garden in the country. Why do I need to import it? However, this summer I bought my first ever ornamental grass from Virginia after seeing how statuesque it can look.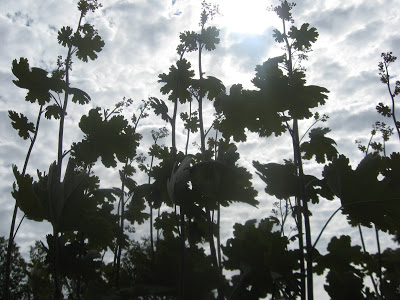 I've never visited the garden without seeing Virginia busy with a project – her wheelbarrow is always out in the open, being put to good use – but she has always taken the time to answer questions or even walk the garden with me for a mini tour, or to point out something special.
The large scale plants Virginia uses really work well here. When you've got competition in the form of limestone cliffs hundreds of feet high, you'd better have something solid to balance things out. It is hard to capture in a picture just how high these cliffs are. Take it from me, they are high! She sells potted plants from the garden, and if you are lucky, like me, she might even dig one up for you if it's not in a pot already.
Because drainage is so sharp here, Virginia has made good use of drought-tolerant plants, like grasses and masses of fleabane, in pinks and purples. These are flanked by a blue-green grass. The colours are exquisite together, and makes me wonder why I've never planted fleabane. The climate here is kind however, as the snow cover in winter allows cultivation of many things that are slightly less winter hardy, like the red hot poker.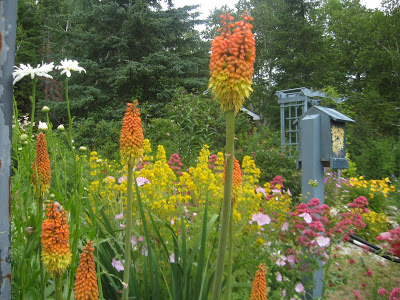 Virginia ordered the standard-sized wooden trellis above, which at the usual width is a bit pokey. She then customized it by having her handyman add a piece in the middle to make it wider, much nicer for two people to pass under. The patch was done quite seamlessly. All her painted wood accents are coloured a dusky blue which works well with the varied garden hues, adding a soft rhythm of colour.
As you wind up the gravel path you are flanked with daylilies, geraniums, campanula and self seeded annuals. Also that frilly little yellow perennial that my sister can grow that I can't. The name escapes me at the moment! Helen? Local limestone rocks anchor the the pathway.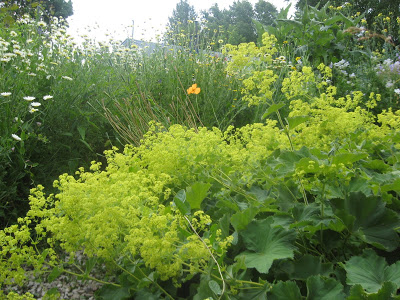 Down the side of the house, with a foresty backdrop is the shade garden. Beautiful collection of foliage, and a carefully tended Japanese Maple (borderline hardy here) is interspersed with the delicate flowers of Aruncus.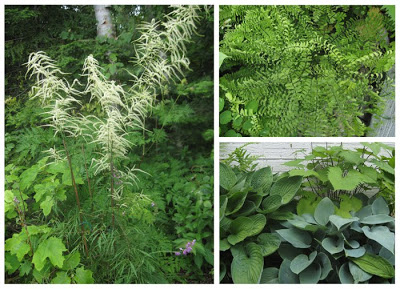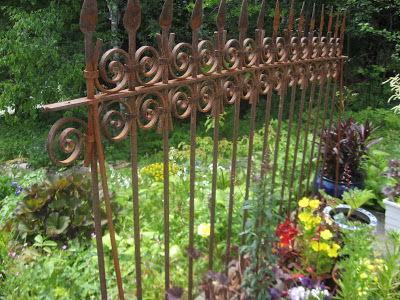 As Larkwhistle is close by, there is a lot of cross-garden-pollination going on. More than once I asked about a particular plant that wowed me, see below, a striking tall Nepeta, and learned It Came From Larkwhistle. It's Nepeta siberica and has a kind of stacked flower on tall stems. The blue is very pure and intense and the individual flowers are larger than a Nepeta mussinii, the kind I grow.
Here it's peeking out from behind a swath of Centanthrus ruber. Another garden delight came from the superb nursery further south at Red Bay: a deep purply blue Japanese iris with variegated foliage.
There's lots going on in the Bruce Peninsula. It's lovely the way all the gardens interconnect and mingle.