This morning eight years ago, I remember where I was. My daughter was home sick with the TV on; she called me urgently from my office to the living room. We couldn't stop watching.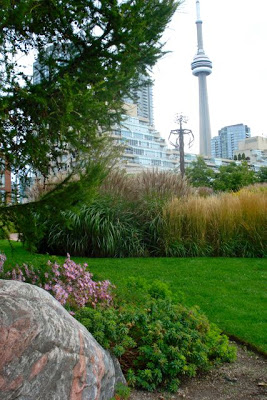 Today, the anniversary was spent differently. First, it was with a large group of friends. Second, it was spent in an affirmation of life… volunteering with the preparations for the thousands of women, including many cancer survivors, who will be walking 60 kilometres around Toronto over the next two days for the Weekend to End Breast Cancer.
And on our way to and from the Exhibition grounds, we walked through the Toronto Music Garden, lovely in its late-summer colours. The Music Garden interprets a piece of classical music, Bach's First Suite for Unaccompanied Cello, in spatial, linear and floral form. It is a peaceful work of imagination, right up against Lake Ontario.
Friendship, kindness, hope, imagination, nature, beauty; all good things to remember on this day of remembering.