Hope you like nasturtiums; hope you like orange; and really hope you like orange nasturtiums. Because you'd see an armload of them in my garden this September of 2009.
The three packages of Tropaeolum majus 'Paintbox' planted last May would be appropriately named. If… if… most of the little squares in your paintbox were filled with orange. Then again, this orange is vibrant enough to have its very own dimension. There's something to be said for that.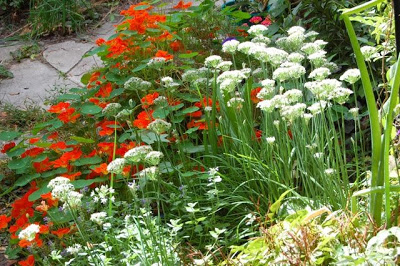 A colour that hot and bright, and the autumn palette has so many of those, is nicely balanced by silver or white — like the garlic chives (Allium tuberosum) here.
(Please ignore the weeds. These are at such a level right now, that with better conscience I might write about Garden Bloggers' Weeds Day.)
So you don't get the wrong idea when looking at that sweep of orange in the back garden: at left, witness the result of the nasturtium seeds I planted in the front (oh so dry, oh so shady) garden.
Not only did it produce just one measly plant, just one from a whole packet of seeds, but it's one measly plant.
And it's… orange.
Thank heaven for foliage at this time of year. Daphne 'Carol Mackie' is looking divine after our summerless summer, and even better paired with Hosta 'Striptease' – one of my favourite foliage couples.
(Please ignore the filigree in the hosta leaves. This year, all my hostas quickly entered the ABC category: Already Been Chewed.)
Atypically, the morning glories (Ipomoea purpurea) which usually devour my garden by mid-September seem to have gone on a bit of a diet. Big-sister Toronto Gardens garden not on the menu this year, eh?
Oh, but look who's coming to dinner.
To see what's blooming in mid-September in gardens around the world, visit May Dreams Gardens, where on the 15th of every month, Carol invites garden bloggers to share their experience.