One, one, one li'l 'Sungold'. Two, two, two 'Bloody Butcher.' Three, three, three li'l tomatoes. Well, you get the idea. Considering that this is how they looked when first planted two months ago and then this is how the Sungolds looked in mid-August, that's worth singing about.
And with the unprecedented dry spell of August-September 2009*, it's a particularly proud achievement. These are gung-ho tomatoes. In fact, that's not a crack you see. It's warpaint. Still to come in the tomato department are some 'Garden Peach', 'Gardener's Delight' and possibly, though this one might not happen, 'Principe Borghese.' All of these were what the heck, plant 'em and see what happens gifts from friend Karyn Wright of Terra Edibles.
I guess we will see. The late planting (due to late aquisition of a community garden plot) might not yield its money's worth of vegetables (not this year anyway), but it has been enormously entertaining.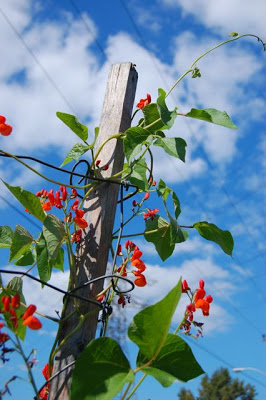 Look at the rest of my haul of lettuce, stringbeans, a few fingers of baby baby carrots, not to mention about six pea pods and, wait for it, a radish!
We have more leaf lettuce, more carrots, more stringbeans, peppers starting to form, herbs. And the scarlet runner beans have put on their party clothes and are reaching for the sky.
*I should amend "unprecedented" to say that with 18 days without rain, counting today, Toronto is on its dry way towards the 26-day record of 1938 (according to today's Toronto Star).