If there's one thing I've noticed when trying to ID daylilies: some of them are very variable in form. This lovely one is in Sarah's garden, and (when we last discussed it) she couldn't remember which it was.
I love a hunt. But when I did my searching, the aha! prompted by my discovery of the name 'Chicago Apache', which rang a bell, quickly turned into a… huh? I've never seen so many variations on so-called "scarlet." Some show distinctly ruffled edges; some just gently crimped. Some have a white rim around the petals, some have a white rib instead. All are labeled with the same name.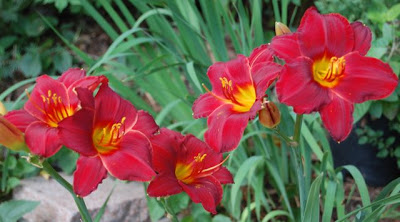 So, will the real 'Chicago Apache' please stand up? And is this one he, she, it, them? Whatever it is, Sarah was delighted to get her most blooms ever this year, which is why she summoned me for the photo shoot. In our dry shade front gardens, such a display is quite the event.
[Update: Sarah has returned, and now thinks this might be H. 'Anzac.' This picture on Dave's Garden looks similar.]