Shakespeare has been the attraction for my past visits to Stratford, Ontario. Sure, I've long been a fan of the swan-dotted park along the Avon River. Yet, I'd never thought of the town as a place to go just to see gardens.
What a pleasant surprise. Between Brian Bedford's not-to-be-missed Lady Bracknell in The Importance of Being Earnest on Friday and the Stratford Festival's joyful and sad production of West Side Story on Saturday, we discovered a whole new side to Stratford.
The Arthur Meighen Gardens at the doorstep of Festival Theatre was our eye-opener.
It has obviously been more than a decade since I last hung out with the Bard. That's roughly how long this version of the gardens has been installed. Last time I was here, it was all ornately patterned carpet plantings; the garden equivalent of a Strauss waltz.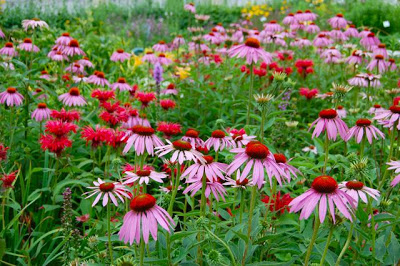 Now the perennial garden is like a jam session with top musicians; you never know what you'll discover. But you'll like it.
Even better, it's likely that you'll know what you've liked, as most plants are conveniently labelled.
Sarah and I flitted from garden square to garden square with oooooohs and aaaaaaahhhs and our cameras while our long-suffering families sat down and tried not to look bored.
Fortunately, they've had lots of practice by now, and have it almost down to a science.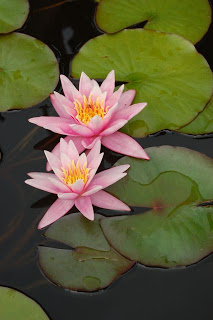 In the theatre shop, I picked up a handy guidebook to the gardens for a reasonable $7.
Too bad I didn't learn about the guided tours of the gardens till after our trip. You, on the other hand, still have a chance to enjoy them, till September 19th:
Wednesday through Saturday, 11:00 a.m.
Festival Theatre, 55 Queen Street
Let us guide you through the Festival Theatre's beautifully landscaped grounds, including the spectacular Arthur Meighen Gardens. Led by garden enthusiasts, these 45-minute tours leave from the Festival Theatre's William Shakespeare sculpture at 11 a.m. Don't forget your camera!
Tours are conducted by the Friends of the Festival, a Stratford-based volunteer organization that provides countless hours of support for a variety of the Festival's activities.
You can also download a podcast for a self-guided tour of highlights of the gardens.
Stratford is only a 2-hour drive from Toronto (crazy traffic in the Hwy 401/403/407/410 confluence permitting). Next time, I won't wait so long to go back and I'll be better prepared for garden gaping.
I'll also remember to make dinner reservations. Because, take it from me, hungry families can make miserable garden bedfellows. (Shakespearean mangling all mine.)