My second garden is two hours outside of Toronto, where I exult in tons of space, sun and sandy soil with lots of rocks. Not to mention hummingbirds and clear night skies full of stars. It's not a designed garden, rather it's a bit of a chaotic and impromptu mess. But it's a pretty mess.
It's arrived after years of using a garden technique I call "Plunking." Dramatization below:
Me: I just bought this plant, where should I put it?
Me, answering back: Oh, just plunk it there in that empty space.
I've resolved to change my "plunking" ways, and to get more structure in my garden, especially after seeing Country Gardener's garden (Yvonne Cunnington) this summer. But for now, here's how things look this Blooms Day.

Wild asters, goldenrod, phlox, coneflowers, monarda all fighting it out.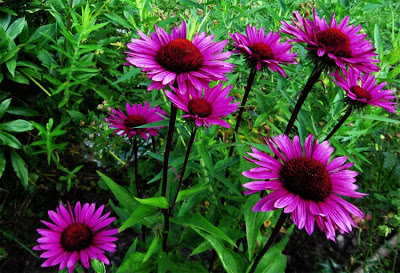 Fatal Attraction Coneflower Echinacea. I need more of these.

Crimson Pirate Daylily and Monarda Fistulosa.
My recuperation spot under my living green umbrella. I feel a kinship with Newton here: I have to watch out for falling apples. Basket is for collecting them. The last gasp of the white phlox is disguising my rain barrel.