Returning to Toronto after a road trip can awaken you to the constrained view of the sky from our little patches of urban heaven. This is especially so in the older parts of Toronto, such as our street, with their heavy canopies of green. (Though they're a good thing, cooling our homes and gardens.)
Office buildings downtown may scrape the sky, but they don't scrape off much of it for us down here in their shadow. Most pedestrians keep their eyes averted or ahead, not looking at much above the walk sign. Even when we find ourselves in more wide-open spaces, such as along University Avenue or The Danforth, few of us remember to look up, look waaaaaay up.
Spending part of each summer beside the miles-wide expanse of the St. Lawrence River near Québec City always makes me want to become a card-carrying member of the Cloud Appreciation Society. The river and the mountains on either side covered in transpiring trees make for lofty, architectural cloud cover.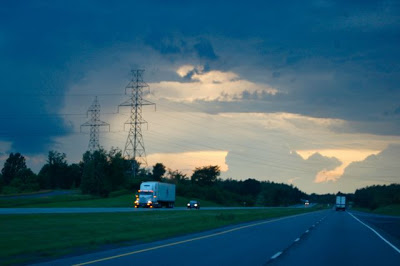 The long drive there and back gives me further time for cloud gazing. When the clouds are heavy with rain and jagged with lightning, as they were both ways this time, they can offer astonishing viewing.
Still, there are great perspectives here in the city for contemplation of the sky: Bridges, balconies, parks, the boardwalk, Toronto Island, the Leslie Street Spit, to name a few.
As a gardener, I think of the sky as the foil for everything in the garden; sometimes white or grey, sometimes a paintbox of blues. It's the garden ornament that city gardeners too often ignore, so I try to keep my eyes from being fixed at eye level. A garden arch, a weathervane or birdhouse, a clematis blanketing the roof of a garden shed; there are lots of ways gardeners can rise to the occasion to incorporate the sky into their garden plans.
How about you? How do you work with the sky? Suggestions welcome. You could say, the sky's the limit.