I had a chance/excuse to go to Dyer's Bay in the Bruce Peninsula to visit a garden Mecca: Larkwhistle Garden. As I was dropping my son at a friend's cottage in Georgian Bay anyway, I thought, Dyer's Bay is only a 3 hour drive from the cottage — it was a temptation I couldn't resist! A quick phonecall reserved a spot at my favourite Bed and Breakfast in the area, Plumica and my garden road trip was on!
There are so many gardens in the Peninsula area that region gardeners have created a website: The Gardens of Grey/Bruce. Their map has over 25 listings, with descriptions and driving directions. I managed to see four gardens in one day. First one: Larkwhistle.
A drive north on Highway 6 in the Bruce Peninsula takes you to the Dyer's Bay road, where a few turns and a hand-painted sign direct you to the garden, modestly tucked away on a gravel side road.
Patrick Lima and his partner John Scanlon have worked this garden since the mid-70s, when they took a bus and hitchhiked to the isolated property to see it for the first time. Since then, they have achieved garden magic with their tenacity and creativity, and made Larkwhistle an exquisite garden gem.The first time I saw Larkwhistle, many years ago, was on a misty Labour Day weekend, the last day the garden was open. I have a vague memory that they warned me that there was nothing really left to see.
However, after a dry summer that had turned most gardens brown and crispy, here spectacular golden California poppies and purple violas covered the base of many of the garden beds in a living Persian carpet. Late-blooming roses and other perennials completed the picture, which was impressive even at summer's last gasp. It was the first time I'd seen poppies like this. I was bowled over. Patrick told me he'd planted the California poppies once, and never had to plant them again.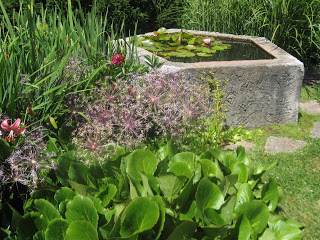 One aspect of the garden is the way they have incorporated water into the space by way of above-ground concrete ponds, some in 5-sided geometric shapes. Frogs find their way up, and sun themselves on the lily pads.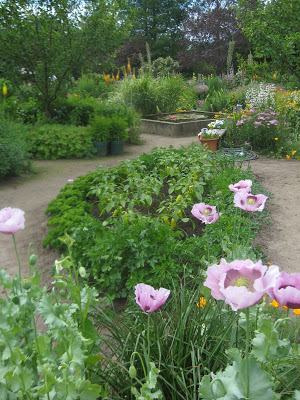 The poppies still reign. Yet, seeing the garden now in midsummer, when all the rest of the garden beauties fight to take centre stage, is something to behold.
While the garden was initially mostly ornamentals, with a vegetable plot to one side, Patrick Lima has interplanted more and more vegetables into the main garden in recent years, beautifully and creatively, in ways that highlight the decorative qualities of edibles.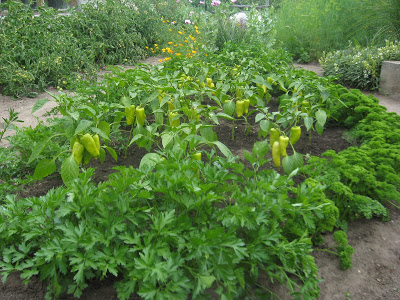 Highly ornamental edibles, such as curly and narrow kale command a central position, with annuals and perennials both amongst and around.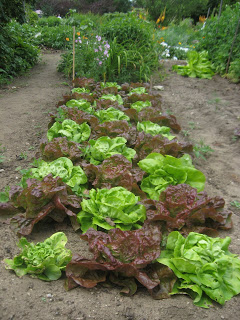 Garden areas or rooms are defined by simple cedar structures, weathered to a soft grey, that provide a framework for the plant material. Hidden seating areas are sometimes part of this framework, as in their hidden white garden, which is tucked to one side.
Every pathway provides a continual flow of colour, texture and form. I always find new garden pairings or new plants to try when I visit Larkwhistle.

One of the dazzlers in mid July are the multiple groupings of robust Foxtail Lilies (Eremurus), providing a hot colour jolt and a great vertical accent.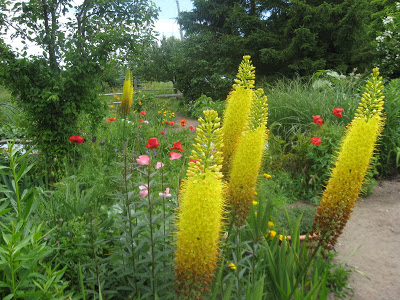 Two large low concrete square ponds give a grand expanse of water to reflect the sky and punctuate the greenery, and give a friendly space for fish, frogs and other passing wildlife.
Annual pale pink poppies and penstemon bloom against a backdrop of trees, which nestle along the road edge.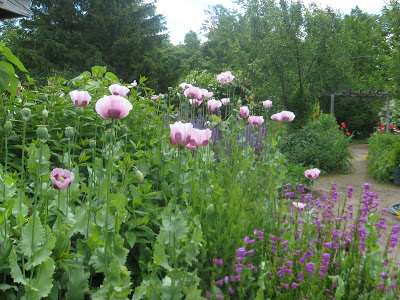 Yarrow, sage and delphiniums take the stage, while the cedar structure provides a counter-point. Nature and structure blend beautifully in Larkwhistle. A treat for a garden day trip. Drive from Toronto is a fairly leisurely four hours. But why not make a weekend of it (Plumica is one of many great B&Bs)? Then you can explore more of the gardens in the area, as I did. More gardens to come.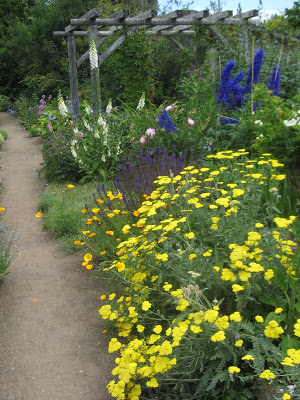 [UPDATE: Sadly, Larkwhistle closed its doors to the public in 2013. We feel fortunate to have visited this Canadian garden gem. But we can still be inspired by the images.]