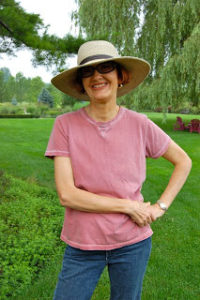 On Wednesday, Sarah and I were thrilled to enjoy a Tweetup in the Ancaster garden of Country Gardener blogger and garden author Yvonne Cunnington, joined by Hamilton Tweeter Tricia of @ycswid.
It was just a few days after Yvonne hosted a garden tour, so every inch was pristine. However, my sense is that "pristine" is just your usual state of affairs for this very talented gardener.
We spent a lot of time lusting after plants, ornaments and yardage. Coming back to the city, our east-end gardens looked particularly minuscule. But then, it really left us no excuse for our slatternly gardening ways. Must dust off the edger!
For now, here's a slideshow of Yvonne's creation in July. Keep your eyes open for Blooms Day in August, when her meadow will be an explosion of bloom.
And enjoy these sculptures by Yvonne's husband John. Very impressive.