They're ba-a-ck! Now opening in a garden near you: the first of the yearly horde of seedlings of Tree of Heaven (Ailanthus altissima). Recognize them by the shiny, round primary leaves, followed quickly by pointy secondaries. If you see them, pounce immediately.
Tree of Heaven is a prodigiously fast-growing, liberally self-seeding, non-native tree whose fronds of compound leaves have just about finished their usual late appearance in Toronto. The leaves on established trees are often reddish as they emerge.
Laneways and backyard fences and vacant lots are only a few of their preferred lodgings throughout the city. They like untended corners around fast-food joints. They like ravines and parks. They like your garden, too, thank you very much. And they feel like staying if they can.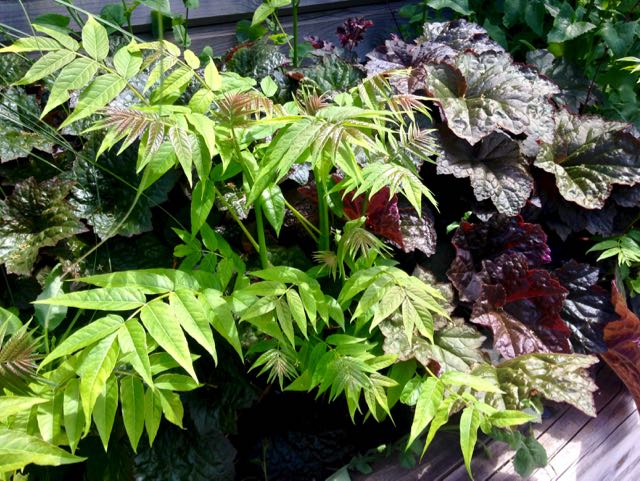 You need to keep watch for both seedlings and saplings. The latter can sneak up on you before you know it. Don't let that happen. Once a tree turns woody, it'll be making seeds by the bushel and sending up suckers forever. Even when one is cut down, like Dan Hedaya in the movie Blood Simple, they keep crawling out of the grave.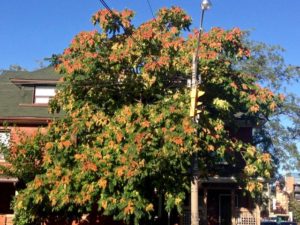 Too bad, because the ailanthus are attractive in their way – although the crushed leaves of the male (these trees are dioecious, with separate male and female plants) emit a horrible smell. With enough sun exposure, the huge seed clusters in late summer or early fall can turn a decorative red or orange. The ailanthus is tall, too – altissima, the specific epithet (the second word in a species name), means highest or tallest – with a vase-like shape. Before I owned a garden, I used to like the look of the interlocking leaves; they seemed tropical, like a naif painting by Rousseau. This tree is the A Tree Grows in Brooklyn tree. However…
If only they weren't so aggressively prolific. If only they played nicely. Till that day, I'll be pulling up seedlings and chucking them into the compost; the only way they're welcome in my garden.