Hidden away on quiet Laing Street that runs between Queen Street East and Eastern Avenue is a little piece of Canadiana that most Torontonians might be unaware of: Maple Cottage.
Standing at the corner of Memory Lane, Maple Cottage is named for the tall silver maple (Acer saccharinum) said to have inspired Alexandar Muir to write The Maple Leaf Forever in Canada's Confederation year 1867.
Like may of Toronto's historic landmarks, tree and cottage were almost swept away by development, until rescued by the City in 1992. Since then, an army of volunteers worked to save it, transforming it into a public space in 2005.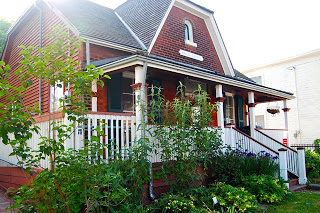 The most important part of the transformation has been the gardens, planted in the Victorian style to match the vintage of the charming worker's cottage.
The tree itself is so old that its soaring framework of branches is stabilized with wires. Also planted on the site as a hedge against the inevitable are the original tree's seed-grown progeny.
Step through the pergola arch and follow the walkway from Laing through to the sunny Maple Leaf Forever Park behind the cottage. This is the ideal, green playground for Leslieville kids to kick around a soccer ball or take shady shelter in the lilacs planted at the edge.
All a surprising find, just a stone's throw from the salvage yards on Eastern.