In 2007, we wrote about the whip of dawn redwood (Metasequoia glyptostroboides) that Sarah acquired in 2006 at Canada Blooms. Our fledgling tree, nursed along by neighbour M., has now flown the coop, and is planted in a sunny spot just across the street.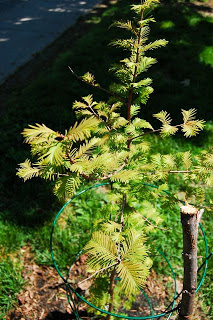 Dawn redwoods are said variously to be hardy to USDA Zone 4-5/Canada Zone 5-6. That means Toronto-area gardeners might be able to grow them, if they can provide a sunny and relatively moisture-retentive location. We've given it the first requirement, and will be crossing our fingers about the second, hoping we can provide enough water to get it established.
Dawn redwoods are growing well near the bowling greens at the foot of Kew Beach Park on Queen Street East. These living fossils (similar to the gingko in that their leaves have been found preserved in stone), were thought to be long extinct until discovered growing wild in China in 1941.
These trees are amongst the few deciduous conifers; cone-makers that drop their leaves each fall. The larch (Larix), of which there are North American native species, behaves in the same way.
Looking at the foliage of our baby, it might be that this is the golden-leaf variety. We will watch its progress with interest.