It has been a wet few days. The roses have been slurping up that water and their growing tips and buds are nice and juicy. Mmmmm, say the bugs, the rose buffet is now open! Not for long, bugs.
First, meet the leafroller – larva of one of a number of common moths. Leafrollers produce a couple of generations a season, and the early one about now is the one to catch. That way, you're reducing the numbers of chewing mouth parts clamped on your roses per summer.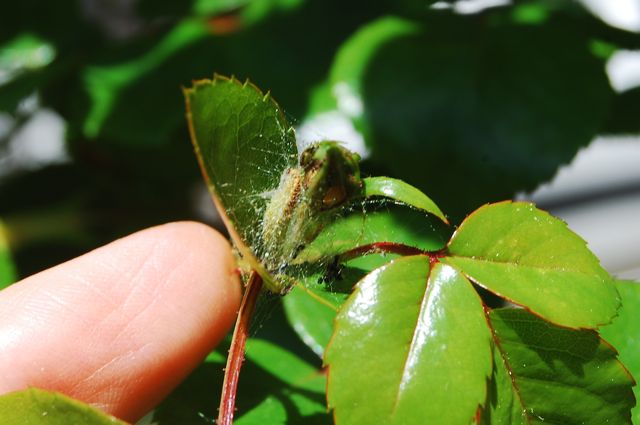 Leafrollers can be detected by the small web they spin around the flower bud and young leaves at the tip of the growing stem. Inside the web, the folded leaf or the bud itself, is the small greenish or buff caterpillar, taking bites from everything and devouring the developing flower. Leafrollers also attack other members of the rose family, including apples.
Here's what I do. Forget the chemicals. Out come Helen's flying fickle fingers of fate. Open up the web. Squish, squish. And squish for good measure. Bye bye, leafrollers.
Next, meet the aphids, small sucking insects that use the new growth like Jughead uses the Chocklit Shoppe. Aphids come in different sizes, depending on their age, and in different colours. Sometimes pink…
Sometimes aphids are green…
And sometimes even white. All are equally vulnerable to my highly technical skill: squishing! Should you feel more squeamish than squishish, a strong spray with the hose directed at the young shoots may be enough to dislodge aphids from their roost. (This doesn't work on the leafrollers, unfortunately. Perhaps you can find a squishing proxy for those.)
However, there's a wonderful atavistic pleasure about squishing bugs. Gloves are optional. Guaranteed: the ones you squish won't come back. Ever. Give it a try.