Who says front yard trees have to be boring. Look at this specimen of the Tricolour European Beech (Fagus sylvatica 'Roseomarginata') growing on the south side of Mortimer Avenue.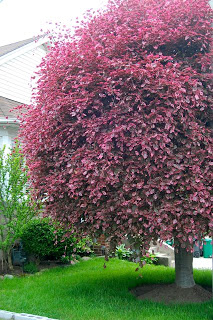 I love all beeches for their smooth, grey, elephant-leg bark and regal stance. I love the way the juveniles of our native beeches hold their buff-coloured dry leaves over winter in the forest.
But this! This!
The European beech comes in many forms – spreading, weeping, columnar – as well as leaf colours, all of them beautiful. A well-grown weeping copper beech can make me swoon.
But this one, growing along a busy street in an unassuming neighbourhood, was almost enough to make us leap out of the moving car as we drove by. Sarah asked: what is that?
And now we know.
Here's what you see when you look up; look wa-a-a-a-a-y up. Imagine if the sky had been blue that day!