After yesterday's heartless post on the subject of aphids and leafrollers, it's incumbent of me [oops, I mean: on me] to say: not all bugs are bad bugs. Not even bugs with bad-boy reputations.
Even in this day of catastrophic bee decline, Google carpenter bees, for example, and 99% of the results will be about how to do away with them. People tend to equate them with termites. They're not even close.
We have willingly shared our garden – or, more to the point, our cedar garden shed – with many generations of Eastern carpenter bees (Xylocopa virginica). They are excellent pollinators, are not aggressive and are fascinating to watch; more of a curiosity than a pest.
Male carpenter bee emerging from the hibernaculum: Hey, our carpentry work isn't usually this messy.
The males (identified by the white patch on their face) will check you out, as males are wont to do, but have no sting. The females do have a stinger, but rarely use it. They're too busy collecting food.
Their name derives from their practice of drilling a tunnel in wood in order to lay their eggs and hiberate. They don't eat the wood – one of the first signs they're active here in spring is the wood frass or sawdust on the comfrey below. Nor do they create large colonies, as honeybees and other social bees do.
Each female lives about a year, and the daughters hibernate over winter and return to the burrow or hibernaculum from which they hatched to lay their eggs, or they create a new burrow nearby. Wood damage is generally superficial, less due to the bees than to the woodpeckers drilling to find bee larvae.
They love my shed, making their home in the same board for many years and leaving my home alone. You could say that they're me-leavers.
A carpenter bee can be distinguished from the similarly sized bumblebee by the abdomen: the carpenter's is shiny black, not furry. Its thorax or midsection is covered with yellow hairs, and carpenters have a black spot, like a monk's tonsure, in the centre.
As I said, they're active pollinators, and for this reason alone we should think twice about blindly doing away with them. As they're big bees with the right equipment, they do sometimes cheat, as I watched the female above do yesterday. She drilled through the tops of the columbine spurs to get at the nectar, without brushing by the stamens and pistil to pollinate the flower. Tsk.
Well, that's okay guys. You can stay. Until further notice, I'll remain a bee-leaver.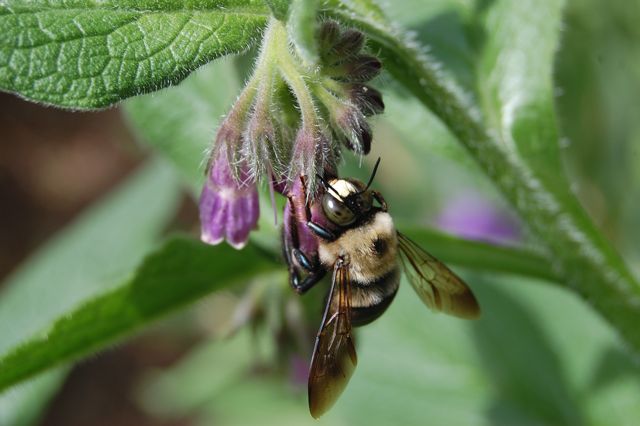 The white patch on its face tells you that this is a male carpenter bee. That, and the glint in his eye.