Clematis and I have a thing. It isn't always good. It isn't always long. But, you know, I just can't quit them.
This time of year, the love affair begins, when the garden arch in the back is decked with the blue wings of Clematis alpina 'Pamela Jackman' (above). It's a lovely little clematis that will take some shade and has been faithful to me for over a decade.
Last year, I was thrilled to have enough new growth to be able to train it through the branches of the Rosa 'New Dawn'. Great, I thought. Wonderful! This year, however, the blooms seem lost in the rose foliage. Is it trying to tell me something?
I have many clematis trained up the fence that divides me from my neighbour M. We're friendly types, so the fence is open weave. I have lots: 'Hagley Hybrid' (aka 'Pink Chiffon'), 'The President', and one of my faves C. viticella 'Venosa Violacea' (to name just a few). They bloom beautifully. Trouble is, it's mostly on his side of the fence.
After years of this, in 2003 I finally got wise and purchased a pyramid-shaped obelisk, plunked in the middle of my tiny garden bed. Three clematis went in, including a pink 'Dawn' (to go with my New Dawn rose; see it pictured at right, with friend), blue 'Daniel Deronda' and barred 'Dr. Ruppel'. In 2009, Dawn remains a winner, but t'other two seem to be no-shows. TBD.
Everyone should have a C. macropetala 'Maidwell Hall.' I used to. It was an exquisitely blue and white multi-petalled, nodding variety that bloomed in May – and it was paired with a pure white C. macropetala 'The Swan' . You'll note the collective use of the past tense.
Had a lovely 'Lady Betty Balfour' – once or thrice. Nope. A 'Nelly Moser' and 'Bee's Jubilee' – nuh uh. 'Anna Louise' – my hopes are still up for this one. Perhaps second time's the charm? The death roll is too lengthy and depressing to continue.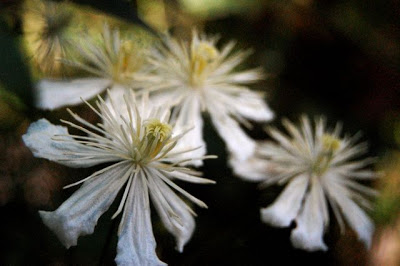 You can see that I exist as a one-woman subsidy for the clematis industry.
Hey, I even met clematis breeder extraordinaire Ray Evison once at Canada Blooms (in the "good old days" of the Loblaws extravaganza gardens). The split second before I'd recognized who he was, I asked him to identify… a nearby shrub.
Do you think he jinxed me?
Finally, there's, Clematis fargesoides 'Summer Snow.' It's a delicate white flower with serious, thug-like tendencies. Rooted in the driest, north-most corner of my house, it still manages to put out ten or fifteen feet of new growth in a season, all of it absolutely covered with small white stars for more than a month, followed by fluffy seed heads.
And thank heavens for that.