The show runs today, Sunday until 6pm, so you still have time to get down there and see all the Green Stuff.
I didn't see everything at the show, because it is so huge. There are many, many booths containing a vast compendium of green living methods and tools, both for personal use — from small string bags and complicated systems for living and getting yourself around — to booths for community and public use, focussing on methods for preserving the environment. There's also an epicurean aspect: Great food prepared simply and beautifully. Delicious dishes to try, all at great sample prices.
1. Tree Planting. – Trees Ontario: Plant that tree!
One of Trees Ontario's big programs now is the 50 Million Tree Weekend. They are asking us to "Be One in 50 Million – Plant a Tree With Us." and to join the first annual 50 Million Tree Weekend May 8 and 9, 2009, to help fight climate change. You can sign up today at: www.50milliontreeweekend.com It's all part of the United Nations' Billion Tree Campaign. Trees Ontario is also promoting their subsidies for purchasing seed trees for people who have properties of 2 acres or more. The best time to plant a tree is 10 years ago. The next best time is today!
2. Awareness of carbon footprint. – Plant another tree, while you're at it! (message bears repeating) Tree Power, The Toronto Hydro Exhibit.
There is a Giveaway Seed Tree program at Toronto Hydro, with a conservation and tree planting focus.
Nice to se their very beautifully designed information signage about offsetting energy use with trees. They also illustrate other approaches to energy saving.
It's a fun exhibit with real trees, a big wooden carbon molecule you can walk into, and wooden cut outs of wildlife, with energy facts. You walk around and take down notes on a card, and when the card is full, you get a little tree: a white pine. Fun for kids of all ages.

3. Safe Disposal of Waste – Hey, what nasty stuff is in that thing you are throwing away?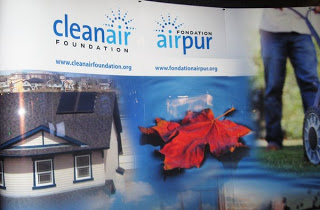 The Clean Air Foundation. Focus on preserving clean air and water, and being careful with disposal of common household items that have hidden poisons. There is mercury in the older household thermostat switches still found in many homes. The danger is disposing of these with ordinary garbage. Mercury in one switch could poison a whole lake, and the Clean Air Foundation has a program for safe disposal of these switches.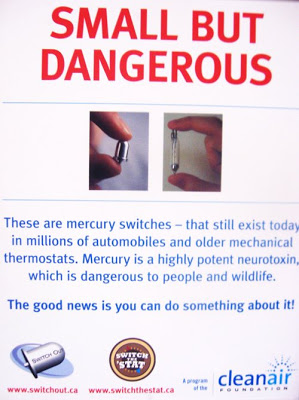 Hidden dangers in common household building materials – like thermostats.
Cars also have mercury switches, which need to be removed before they get crushed and taken to their final resting place.
Is it time to retire your old clunker? Make sure you do it safely, and maybe you'll get a rebate.
The enormous glass coffin below contains a crushed Pontiac Sunfire. Foundation has great options for recycling and disposing of your old pre-1995 clunker safely, with a $300 rebate towards your replacement.

Sleeping Beauty? Here lies a crushed Pontiac Sunfire.
4. Gardening from seed using Heirloom varieties – Dig it!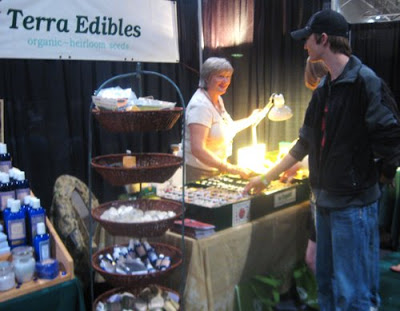 Two of the organic seed booths here are Terra Edibles and Urban Harvest. If one booth doesn't have what you are looking for, the other one likely will. Terra Edibles specializes in heirloom tomato seeds, with a vast selection, and also has many rare vegetable seeds and a great selection of heirloom sweet peas and other flowers. Why not grow a white tomato this year, a black one, or a stripey one. There's one called Mr. Stripey! Urban Harvest has flowers and vegetables, and also has some started plants. And yes, you can still start tomato seeds now, but get them going this weekend, so you can have your plants to put out the first week of June.
5. Amazingly Tasty Food – Green Eggs and Ham
I'm not kidding. My sample plate was sooooo good. I'm not a ham fan, but yes, I liked my green eggs and ham, Sam-I-am! $10 gets you 5 food tickets and that was enough for a tasting plate that was a delightful gourmet lunch. The many different gourmet food booths offer a huge variety of flavours, all fresh, tasty and prepared exquisitely. Pulled pork sandwiches, beautifully roasted chicken, green eggs and ham, vegetarian Indian dishes, salads, and lots of other delights. Food booths are in the bistro-like food area at one end and have a pleasant place to sit and enjoy your treats.
Wooden compostable eating utensils. If you hate plastic forks as much as I do, you'll like these. They are already being used by Yukon airlines. Greenwareproducts
Some of the tastiest food – an Indian bean melange – was found at The Stop Community Food Centre. It's a non-profit organization that's about sustainable food education, community kitchens and gardens. The Stop info here.
At the other end of the building is a second food area that focusses mainly on packaged products where the free samples flow. Then you can purchase and take home your favourites.
6. Drinks! – Make sure that beer has a good head, eh?
Beer and Wine from Ontario. Buy a ticket and have a taste in the pleasant bistro-like bar area flanked with cedar trees.
7. Building Design – Wow!
This 2 storey mini-cottage/bunkhouse, the aerieLoft, by Breathe Architects was a design marvel, and their cylindrical outhouse (with composting toilet) is one you don't have to hide out back. It's a real beauty, with its matching curved wooden door.
A cistern sits on top so you can have an outdoor shower on one side and a hand washing station on the other.
Other booths offer instruction on various green home construction ideas for every part of the house.
Read more about the aerieLoft here.
8. Fun stuff for kids – Hey, mum, can we go in there?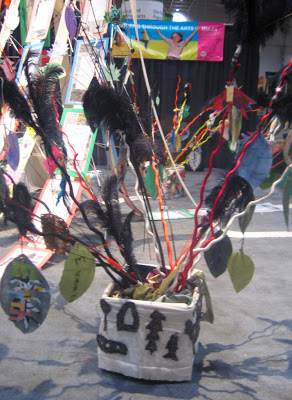 There is an art making area and a play area for kids. The same art and playground elements from Canada Blooms have been re-configured here. The Toronto Hydro exhibit is a great one for kids too. For older kids, you can try virtual hang gliding.
9. Green Transport
You can test drive all kinds of green cars, there are electric bikes and scooter displays. One booth actually powered all the lights on his exhibit with a bicycle.
This is just a small selection of highlights, the only thing to do is to see it yourself.