April – the cruelest month – is the time when I start wondering when I can start introducing my overwintered plants back into the "wild", aka bring them back into the great outdoors.
I overwinter geraniums every year, keeping the favourites for next year. Main reason: In the (almost) words of Renfield from the movie, Dracula: Why should I buy new ones, when I can keep the nice juicy old ones? (Renfield of course was comparing flies to spiders.)
Why is Dracula, coming to mind? I suppose annuals that I overwinter are my own way of interacting with the "undead". I'm all for keeping stuff undead as much as possible. Within reason, of course!
Anyway, overwintering means I end up with "Mother" plants, which get bigger all the time, and – because I take cuttings – plenty of fresh new ones to plant and give away. The other reason is to hang onto all those really special varieties of geraniums that are hard to find again. So, combination of $ saving and, conserving special varieties. This one in the picture is one I found at East of Eliza, when I was giving up all hope at finding a pale pink geranium last spring. Of course I had to save it.
Methods I use at end of growing season:
1. The very careful method
Use trowel to carefully dig up roots from planter it is growing in. Pot up with some fresh potting mixture in a carefully washed pot which just happens to be at the ready. (This happens… not that often)
2. The slapdash method
Grab some kind of tool, fork, trowel, two hands, or pointed stick, and mine underneath root ball, being careful to get all roots, and carefully lift. Throw a bit of potting soil, whatever is around, in bottom of new, smaller pot. Squash geranium into pot. If there is any soil around, throw on top.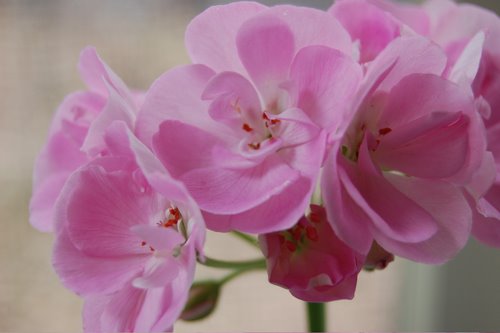 3. The even more slapdash method
Look around wildly for any container I can stuff plant into. Recycling bin, yogurt container? Perfect! Old plastic bucket from dollar store? Even better! Yank plant out of pot it's growing in. Stuff plant into new one. Bring indoors.
3. The last minute, in my pajamas at 11 pm because it's threatening frost method
Yank plant out of container by stems and leaves. Toss whole thing into plastic bag. Bring inside and hope I don't forget what the hell is in it. Actually results are better with this method, if I remember to leave the leaves showing and tie the plastic bag around the root ball with its handles, but who has time to do this when you are recovering from running outside in the freezing cold in your pajamas?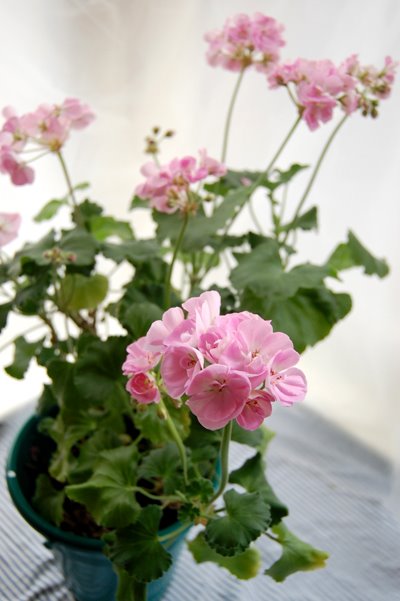 This pale pink beauty is one I was very happy to save, and it started blooming wildly indoors in March this year. Note it is growing in a green dollar store bucket. (Method 3)