[Update: Sadly, Gardenimport has ceased to operate. We miss it. But we have fun spotting Dugald here and there in all things horticultural.]
It's fun getting the emails from Gardenimport, the mail-order garden centre started by Dugald Cameron and his family back in 1983. There are always a couple of gems in his mailer of unusual seeds, bulbs, plants or shrubs and vines. As I had a little window of gardeny time last night, I went through the online catalogue to see what appealed.
One thing that always finds room in my garden is nasturtiums (Tropaeolum). These reliable (for me) little seeds can be popped into nooks and crannies along the margins to produce pretty, and edible, flowers and leaves. Like Cosmos, nasturtiums really do best in poor soil, giving the highest flowers-to-leaves ratio.
I've grown four of the ten varieties offered by Gardenimport from Sutton Seeds – 'Milkmaid' (at top of page) and 'Peach Melba' are pictured here. The one I liked most this time round is 'Paintbox', with a colour range that really goes with anything in the garden. I'll be ordering myself some of those.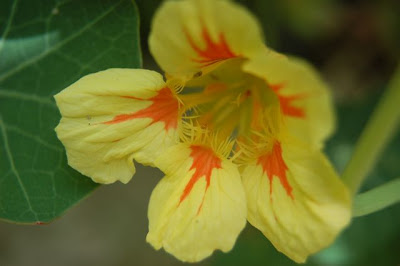 Can eyes "prick up" like ears do? Mine do whenever I read about a plant with a sandy soil preference.
Two other seed choices fall into that category – both an intense blue. The description for Anagalis says it needs to be pre-started indoors in spring (6 weeks before last frost). However, as it's a hardy annual, which is an annual whose seeds may survive winter, it's also possible to sow these outdoors in the late fall. A better buy for right now is Anchusa, a sort of summer forget-me-not. And blue, blue, blue!
The vines and shrubs also caught my eye. (They have, for example, 35 different kinds of Clematis, most of them hard to find cultivars.)
One to note for a naturalized garden is the native shrub Diervilla lonicera, aka bush honeysuckle – though not a true honeysuckle. Following it up with some research, I found this positive write-up in the Northern Ontario Plant Database. That site links to this slideshow of diervilla through the seasons. A compact native shrub that tolerates poor soil, with some shade, and produces a nice red fall colour is a shrub to add to your wish list.
Other compact shrubs looked interesting. One is an Asian redbud, Cercis chinensis 'Don Egolf', which reaches only eight feet (about 2.5 metres) at maturity. This is a very new introduction and might be iffy outside Zone 6, but it's one to keep an eye on.
Very much into Lust List territory is this dwarf blue butterfly bush, Buddleia 'Lo & Behold Blue Chip', which they claim requires no deadheading and it blooms all summer. Too good to be true, the skeptic in me asks? Lemme at it, replies the optimist.