In the glorious weather on Saturday, I had to make a stop at East End Garden Centre, a gardening institution on Queen Street East for 27 years.
Of course, the racks outside the store were laden with pansies, those frost-hardy annuals that are great for planters at this in-between time of year. I always stick my nose into each flat to buy the smelliest ones I can; blue this time around. Yet, there's something about the way the yellows capture the sunlight that makes them pretty special.
At the same time, I tracked down garden centre owner Theresa Tate to congratulate her on her win against the big-box project that had been considered for Leslieville. Personally, I agreed that the site was just the wrong place for a mega-store. I prefer to support local retailers such as East End that give the area its character. Mrs. Tate, who had just celebrated her 77th birthday, was relieved about the future of the family business she had founded back in 1981.
East End Garden Centre is a great resource. One thing I like is that they can arrange delivery of all those heavy bags of sheep manure I need to feed the soil. A friend without a car was able to select a beautiful 'Bloodgood' Japanese maple from here and have it brought to her house. Plus, it's right on the streetcar route. That makes a difference for a city gardener.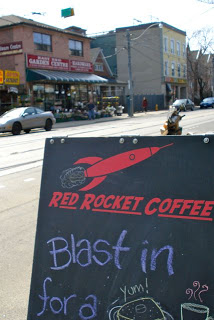 Speaking of local businesses, before heading over the street to the garden centre, my husband and I had to stop for lunch at the Red Rocket.
[Update: Unfortunately, the Red Rocket is no longer on Queen Street East, and has moved to the Danforth. Not happy news for plant shoppers, but happy for me – it's closer to home.]
Well, I say "lunch," and the hummus and grilled veg wrap was delicious, as was the fair-trade coffee. But what I really came for was the sinfully crumbly chocolate shortbread.
Think of it this way: a gardener needs fuel to do all that digging. Digging into my huge (read: tiny) windowboxes to plant aaaaall those pansies is hard work. It must have taken me a full 15 minutes. (More on this in a later post.)
So a couple of super-rich shortbreads are okay. Necessary even.
No, really.