The cornu is definitely copious when it comes to irises in June.
Even my Microgarden tends to feature a good flush of the intermediate purple irises (above) that came with the house – and which, over the years, have overflown to neighbours' gardens up and down the street.
Albeit, for silly me, the flush of 2008 is less than usual, due to my laziness or business at the start of the season. I neglected to clear away the winter debris from the tops of the rhizomes or fleshy roots, and irises must have sun on their roots to bloom at their best.
Others have obviously not been such slackers. The blooms are everywhere in the city right now.
As with hostas, heucheras and hemerocallis of late, iris hybridizers seem to have gone wild creating new varieties and improving old ones. In addition to an array of different coloured falls and beards, you can find irises from tiny, early-blooming rock garden varieties to tall repeat bloomers such as the white one on my permanent wish list: Immortality.
Repeat bloomers give you the June flush, as all irises do. Then, if they're happy, they'll give you a smaller second wave later in the season. When I get that sunny English garden one day, be sure that I'll gain my own Immortality!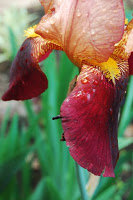 Like snapdragons, there's something about the iris' intricate form that fascinates kids (among whom, of course, I count myself).
Wish I knew the names of the other varieties pictured here. They represent just a sampling of the flower forms, old and new, of the standard bearded iris you can see in our neighbourhood over the past week.
And the fragrance of some! Turning the corner past neighbour G.'s garden the other day, a breeze wafted by with the scent from her bank of tall reddish purple Germanic irises that literally stopped us in our tracks.
Iris, we love you! Bloom on.