It was quite a crowd last Sunday when arborist Todd Irvine and LEAF organizer Susan Gulley got us together to fall in love with trees. I learned plenty about the East Danforth treescape. And now I'm trying to see how it all fits in with my own garden.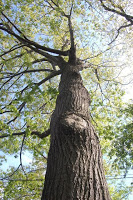 My own garden, if you've read one or two of our posts, sits above untold feet of yellow sand. Well, now I can tell you that all that porous, inert stuff under there is the 14,000-year-old vestige (give or take a few thou) of a sandbar in the ancient Lake Iroquois that once lapped up against the top of our hill or just beyond.
That sandy land was the ideal growing conditions for oak savannah, which rather than boreal forest, was the natural state of tree-ffairs in this neck of the woods.
Oak savannah is what is being nurtured over in High Park. It's the combination of prairie dotted with trees, such as, well, oak — but also sugar maple or beech. The towering red oak on the left (or above, depending on how this type arranges itself) is an example. The white oak below is another.
I want an oak tree now. Oak trees tolerate sand.
For some time, I've been thinking of ordering a street tree for my yard. The two huge, non-native Norway maples on either side of me are, sadly from an urban forestry perspective, not going to last forever. They're about 90 years old now. When they go, the wonderful character of our shady, tree-lined street will be altered. Much as I find the shade a challenge, and hate the Norway maple seedlings and roots, that would be a crying shame.
It's happening already. Three Norways have succumbed to carpenter ants and old age in the last five years or so. Two have been replaced by small ornamentals; one by a sugar maple. Those small threes, while pretty and as fruiting trees are good for the birds, will never, never tower. Or shade, for that matter.
Only 17% of Toronto's landmass is urban forest, according to Todd, and that's down from 21% ten years ago; a 20% drop in a decade.
So I'm going to look into whether an oak would survive long enough in my front yard to out-survive the Norway monsters next door. And I'll be doing a little agitating amongst my other blank spot gardens on the street.
If not an oak, then perhaps another spreading native such as this hackberry — which also makes fruit for birds. Watch this (tree) space.
More tree tours are coming up in May and June. Visit the Toronto Tree Tours site for info.