Everyone loves that ferry ride to Toronto Islands in the summertime. It's the perfect antidote to city heat. Who but its residents visit the island in winter?
Last September 2007, some friends and I met on Ward's Island to do the Terry Fox 10K and we made a pact — Let's visit the islands at least once each season. On a springlike day this past February, we did season three: winter.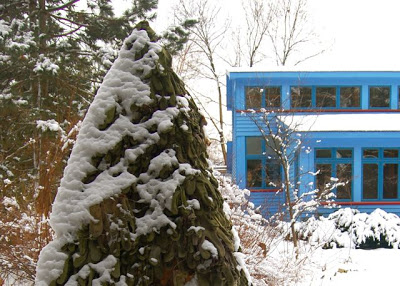 I love the idiosyncratic feel of the homes and gardens on Ward's and Algonquin Islands. Even the increasingly gentrified bits have their quirks.
Take this conical "conifer" made of overlapping work gloves. Wish I could take it, as I want one of them at my place now. A clever mix of garden sculpture and "plant material," it would be just the thing for a dry shady spot, of which I have an abundance.
That's the island all over; an artisanlike cedar-shake roof here, a funny little cat-in-a-tree there. There's lots to appreciate for anyone willing to keep their eyes open.
Just one day of wandering around nosily doesn't seem enough.
I keep promising myself that one day I'll try out one of the Island's B&Bs. I first twigged to their existence at the Toronto Islands Garden Tour one August (the tour happens every other year, so I think it was 2006).
And a writer's studio at the Artscape Lodge at Gibraltar Point Centre for the Arts is another thing on the personal promise list I've been making ever since I learned such a thing was available. One day, the book.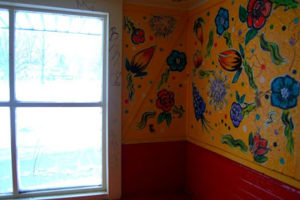 In the meantime, I have a spring season to look forward to experiencing at the other end of a ferry ride. If it's a rainy day, perhaps spring will find me amongst this bed of flowers in the shelter waiting for my return trip to the mainland.
The squelchiness of a mock-spring day in February didn't put our little group off trekking around the gardens there, so I doubt the real thing would. No matter how soggy the thaw may be. And if spring ever comes.