A quick post in praise of my sister's ingenuity. While houseplants and seedlings wither and die in my hands, Sarah makes potted things grow.
Invention is the necessity of mothers. And this little mother can invent up a storm.
Here is her crazy-but-it-works idea for a "roof garden" greenhouse.
First, an inexpensive plant stand with cover from the "mega-store-that-must-not-be-named."
Then, an innovative idea to keep things warm and moist and greenhousey: a mason jar of water on an electric cup warmer.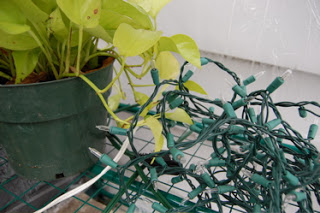 Finally, for a little extra coziness: a string of fairy lights!
Almost forgot to mention that she recycles bubble wrap to provide a draft- (and, so far, squirrel-)proof base for the whole contraption.
The greenhouse is a great place to ripen forced hyacinths that otherwise tend to clutter up kitchen counters and to give houseplants an early start on their summer vacation. Smart girl, my little sister!
I wouldn't have the patience to keep things going. But I might get to be the beneficiary of a cutting of that chartreuse Pothos.
So I'll have something new and pretty in a pot to kill.