At the end of July, I joined about 70 garden bloggers from North America and the UK in Seattle, Washington, for the annual garden blogging extravaganza called the Fling. Over four days, we saw many, many wonderful gardens, which I'll try to share with you over the next while.
The day before it began, local blogger Alison Conliffe invited some earlybirds on a sidetrip to Seattle's favourite (I should say, favorite) garden centre: Molbak's Garden + Home. To say I was impressed isn't enough. We have some excellent garden centres in Toronto, but Molbak's still has something to teach them. Here's what they do well – and what you should look for from a garden centre near you.
Molbak's well-spaced display of zinnias gradates deliciously from yellow, though orange, pink and red. Nice.
1. Great plants, in the best possible condition
Really, this should be the minimum requirement for any reputable plant retailer: A good selection of desirable plants, well looked after. I stress the last point. No more tiered trolleys, over-packed with desiccating plants, please. Let's shop from places that take good care of their (and your!) investment.
Based on my brief visit, Molbak's does a great job at this. The plants on display were of take-home quality. It helps that Seattle, in the Pacific Northwest, has the "bluest sky you've ever seen, and the hills, the greenest green." Plus, Molbak's has its own 40-acre nursery nearby, and buys other stock from local suppliers. Still, by the end of July, when I visited, even garden goods from nursery growers in Toronto can start to look crispy. After-care in the garden centre is critical.
Molbak's selection was broad, too, from common garden geraniums to lesser-known species such as Mukdenia rossii 'Crimson Fans' (colouring up for autumn, at right). We know that smaller nurseries might not have room for this diversity, which falls into the "nice to have" category of our wish list.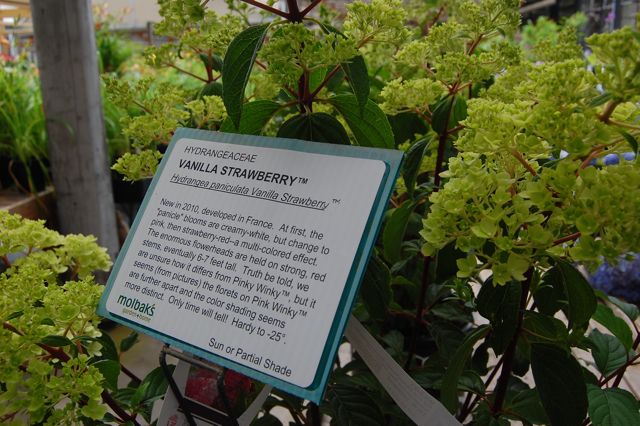 Great signage that tells it straight can be a "silent salesman" you can trust.
2. Honest, informative signage
This picture really says it all. The info tells the whole story, complete with wrinkles. Does it discourage people from buying and trying for themselves? It wouldn't if I lived in Seattle. What about you?
To display cascading plants, Molbak's shows them… cascading. What a concept!
3. Helpful displays
This simple zig-zag of eavestrough-esque material is an effective, two-sided display that works on many levels. It makes it easy for shoppers to see the spillers. It doesn't compact the materials, so when you buy and plant them, the "spill" is already in progress. And makes it easy for staff to maintain and restock. This is the kind of smart thinking we'd like to see.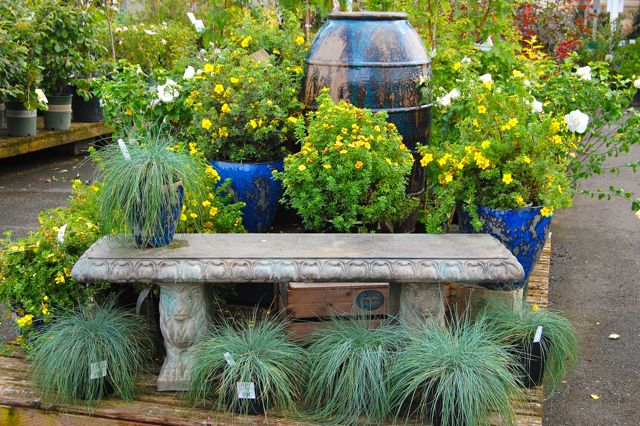 One of many Molbak's displays that read like instant gardens. They make me think: Yep, I'll take it all!
4. Inspiring merchandising
This display is also helpful, because some of the design thinking is done for you. A massed display like this, a few pallets square, is close to the real estate you might have in a small city garden. It stresses the value of planting (and buying) in multiples, which can only be good for the retailer, and makes a stronger impact on your finished design. We look to our garden retailers to know plants, and also to know design. What blooms together? What would make a statement after they bloom? Please show us.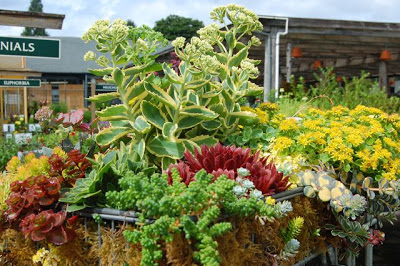 A shopping cart, planted full of succulents.
Molbak's merchanding and design teams must be busy, busy, busy. Displays like the ones in these photos are dotted all through the store. The colour combos of plants and garden ornamentation are subtle and striking. It's "suggestion selling" at its most effective.
The store also does container design, with sun or shade ideas clearly marked. You can check out plant combinations and do your own, or have Molbak's design it for you. Their ideas were beautiful.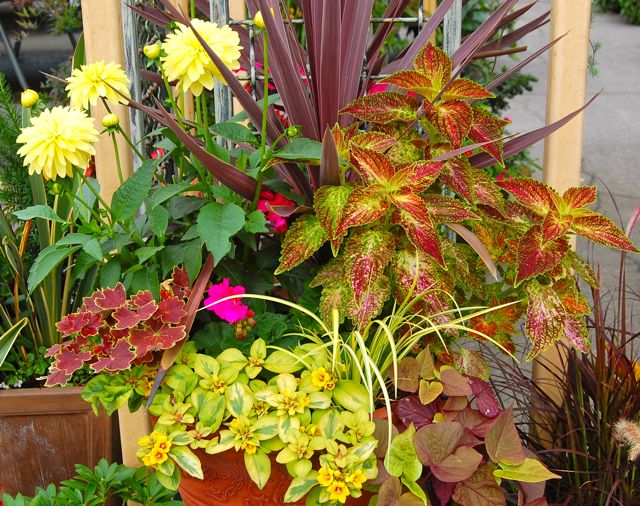 A container of mostly annuals in shades of pink, purple, rust and yellow.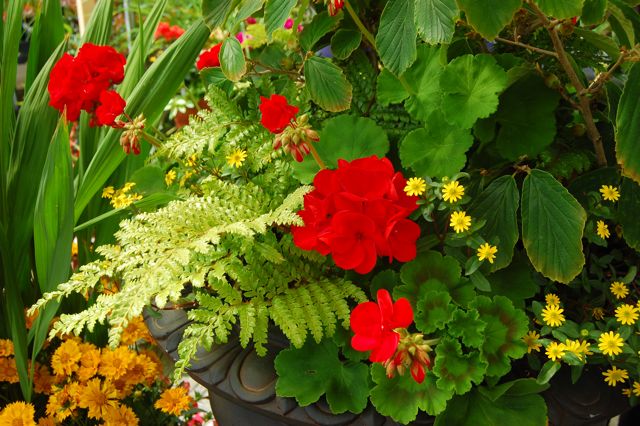 A semi-permanent container with perennial ferns and a shrub accented by annuals (or ones we treat as annuals)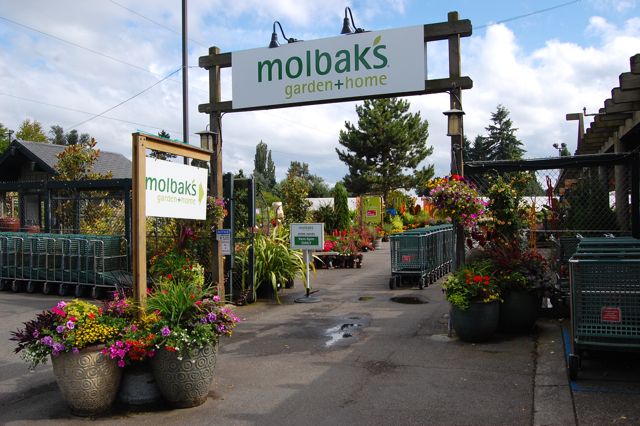 5. Longevity
Molbak's has been in Seattle since 1956, obviously weathering the stresses of growth and generational changes well. With the demise of Reeves Nursery in Toronto, we have seen that sadly this isn't always the case. Our own patronage is important, especially for independent garden retailers. They're fighting North America's misguided obsession with cheap in competition with the big-box retailers. However, smart management and intimately knowing your product, your services and your market, and its changes, is the key to success in any business. Long-term success is mostly what we look for from our garden centres, especially the ones we love.